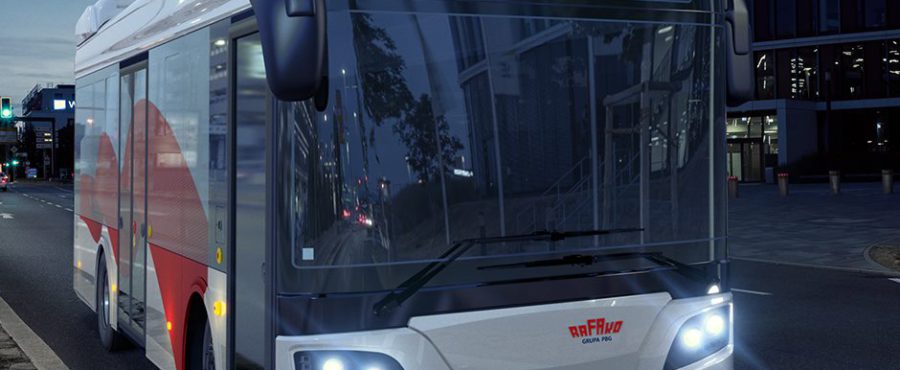 China's city bus market is nearly saturated and therefore, Chinese manufacturers are more and more frequently looking towards Europe, and the stake is worth it. It turns out that by 2025 the global market of electric buses will have grown up to over 160,000 vehicles a year. To put it in a perspective, now there are about 400,000 electric buses in the world, 99 per cent are operated in China, and most of the remaining portion, i.e. approx. 2,200, drive in Europe. Prospects are extremely attractive and European producers are not going to give up such an expensive market without a fight.
Europe to develop e-transportation
European capital cities are developing ecological public transportation. This transformation is led by Paris, which by 2025 wants to reach the target of 4 out of 5 electric buses. This translates into about 4,500 electric vehicles. London is striving for even further and more ambitious goals – zero emission from city buses by 2037. Brussels has the same target but wants to achieve if 7 years sooner – by 2030. What is interesting, Poland holds the third position in Europe as regards the number of currently operated buses and already contracted electric city bus fleet. This very high position confirms the dynamics of this market in our country.
The development of the sector is supported by the adopted electromobility act, which provides that by 2023 the share of zero-emission busses will have reached at least 10 per cent of the entire fleet. The first forecasts indicate that in four years Poland will be operating about 1,526 e-buses, which means that 1 out of 8 buses will be powered by electricity.
Major players
BYD is the Chinese market leader. The company is not enjoying the best reputation in Poland as a result of an unsuccessful delivery of ten 12-metre electric buses to Warsaw. Its market share also dropped significantly in 2018 compared to the previous year.
In this discussion one cannot skip manufacturers like Mercedes, MAN and Scania. The former in 2018 declared to start mass production of its first e-bus. What's interesting, Mercedes, along with this new category of vehicles, announced establishing Daimler Buses Mobility Solutions, a division which is to provide consultancy on optimal configuration of vehicles and precise adjustment of the bus to the city or region topographic specificities.
MAN assumed that about two thirds of its buses will have turned electric by 2030. The new city MAN Lion was presented in March 2018 at the IAA Motor Show in Hannover. Fully electric drive system generates power of 160 to 270 kWh. It is powered by modular batteries of 480 kWh (short version) or 640 kWh (articulated version). MAN benefited from its own battery technology experience. Battery temperature management ensures high efficiency, regardless of the time of the year. In this way Lion's City eBus may offer a range of 200 km on one battery charge cycle.
Chinese manufacturer Yutong also has a potential to take some share of Europe's electric bus market. China's contracts are expected to be dropping, as the most recent analyses show that the market of electric buses in China is nearly saturated. Ten Yutong ZK6140BD airfield buses were sold to Spain and this April Denmark bought 20 electric Yutong E12 models. This is just the beginning of expansion of this Chinese manufacturer that does not even conceal their interest in the European market.
Poland in E-bus race
Poland's first fully electric bus, Solaris Urbino 8,9 LE electric, was first presented in 2012. Its producer based its construction on the third-generation of the Urbino family. Initially, the vehicle's range was only 100 km, but it did increase along with technological advancement.
Autosan and Ursus Bus are still working on the final version of their e-bus. However, if they finally manage to launch a finished product, it will be marketed under a German brand name.
Man, Scania and Volvo have opened their factories in Poland. Our country is becoming a motor hub for bus manufacturing, which is reflected in the statistics of the International Trade Centre: in terms of sales volumes, we are EU's second and world's fifth biggest bus exporter.
Here, it is worthwhile to mention a totally new player in the market – RAFAKO E-bus. This company based in Racibórz, a town in the south of Poland, for the first time presented its vehicle with a complete interior at a recent Urban Transport Fair SilesiaKOMUNIKACJA. The vehicle's interior came as a positive surprise. Other parameters of this Polish e-bus had already been revealed earlier. Innovative mounting of the batteries under the chassis improves driving parameters and a synchronous multiphase engine with permanent magnets ensures high efficiency. The vehicle's light construction increases the bus's range by up to 10 per cent, and charging the battery up to 90 per cent takes only 15 minutes. It is clear that the premiere of RAFAKO's e-bus may soon be translated into higher numbers of electric buses on the roads of Poland, but – looking at the company's promotional activities – also on the roads of Europe.