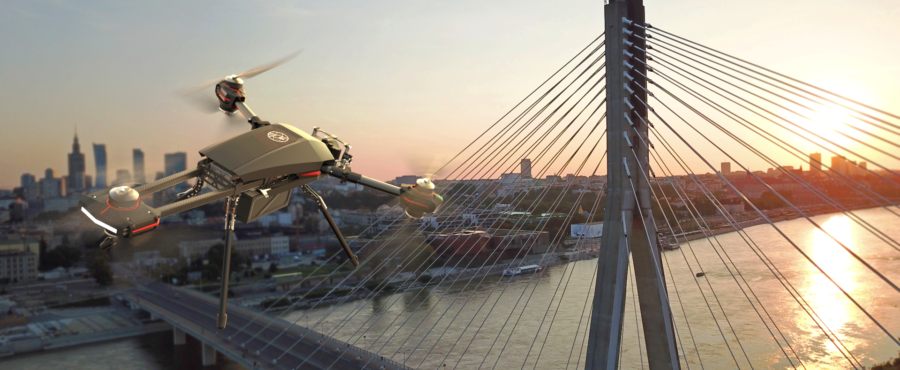 A Cracow-based drone manufacturer has presented a solution which is to revolutionize inspections of power lines and promises it will be faster, quicker and more environment-friendly.
FlyTech UAV, a technology start-up from Cracow, Poland has developed an algorithm to recognize and replicate power lines. This goal was accomplished thanks to the contribution of EU funds with which the company created drones for inspection purposes and extended its inspection services portfolio for the energy sector. This offer, unique in the world, is to shorten and simplify onsite review of power lines. So far such data could only be obtained from systems equipped with costly LIDAR sensors but now the startup has developed a solution employing drones and high-resolution cameras.
Branches in the way
Owners of the transmission infrastructure must regularly care for the installations to ensure their perfect condition, which also means the removal of obstacles. One of such obstacles that may damage the transmission lines includes fallen trees or branches colliding with the lines.
How to find locations where trees get in the way of the installations?
Drones for the rescue. Drones may quickly inspect even 12 kilometres of power lines during a 60-minute flight. In high-resolution photos, operators may see defected or damaged spots. Quick intervention is also possible, for instance, upon a failure caused by a gale. Drones may easily access locations not accessible to people.
FlyTech UAV drones are an alternative to costly Lidar inspections. Photo by System BIRDIE
Afterwards, data collected during the flight are processed. With EU funds the startup could develop a world's unique algorithm generating 3D network models using photos. "This is how we get accurate information about the power line paths and surrounding obstacles. We may point to places where vegetation collides with the lines and branch pruning is needed. And all this is with a precision of a centimetre," says Paweł Wiącek, photogrammetry specialist in FlyTech UAV.
The solution offered by the startup features quickness, affordability and easiness of use. A drone is ready to fly within minutes, the operator plans the route, the flights are fully autonomous and no intervention during the flight is required. This is unlike competitors' solutions, where drones are manually controlled and operators precision and skills truly matter.
"Our drones are also environment- and community-friendly. They have quiet electrical engines", adds Wiącek.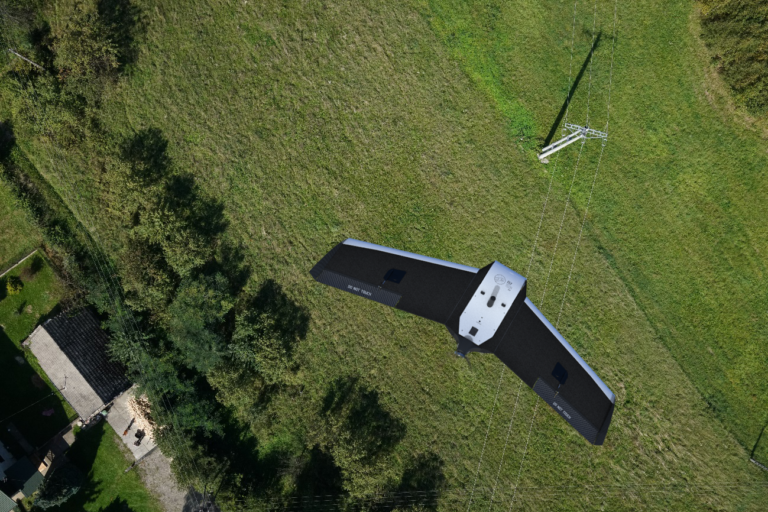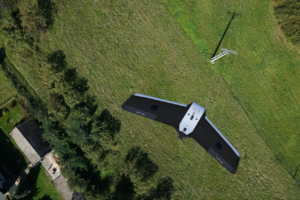 FlyTech UAV's flagship product for the energy sector is BIRDIE – a pilotless drone, with a full-frame camera, which may map up to 12 kilometres of power lines during a 60-minute flight. And it may conduct several such flights a day. Additionally, unlimited GSM connectivity allows conducting flights beyond the visual line of sight, which is particularly important during demanding missions, such as inspection of power lines, gas and oil pipes. If there is not enough room for take-off and landing, a vertical take-off and landing (VTOL) module may be used.
If visual inspections are a priority, a multirotor observation drone will conduct the mission. Although its flight time is shorter than that of a fixed-wing drone, the multirotor model can fly closer to the line and post and "scan" them much more carefully, looking for potential damages, also with the use of thermal imaging or UV camera.
One of the pilot projects using the company's new technology involved measurements for one of the Polish electric utilities. The mission plan to be carried out by the BIRDIE system comprised parts of power lines of a total of ca. 12 kilometres. The project resulted in an inspection report and a pruning plan – all within one day.
FlyTech UAV is a Cracow-based manufacturer of professional drones established in 2013. The company is now developing its sales network – its products are offered in several countries in Europe and Asia. Now FlyTech UAV is planning to commercialize its systems for the energy sector, developed within its just completed, EU-subsidised project.
Press release. More information: https://www.flytechuav.pl/energetyka.html.