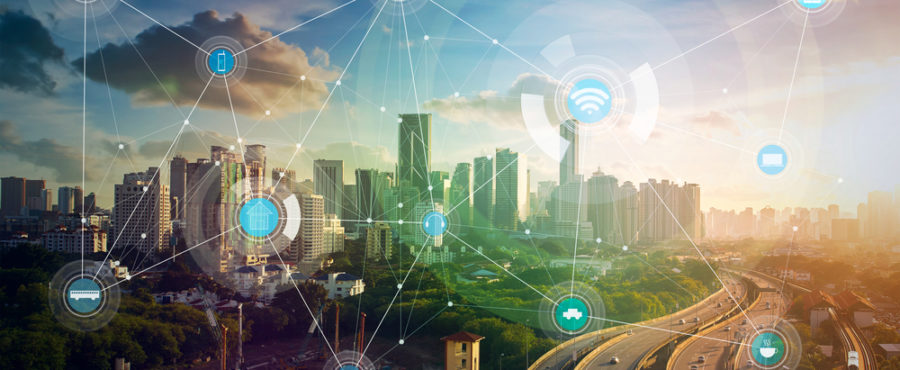 We are witnessing the development of the first integrated systems which support and control IoT solutions for smart cities. With the use of artificial intelligence and big data processing algorithms, companies are developing infrastructural solutions capable of implementing automated city systems. AI platforms will help us introduce fully autonomous cars to city streets, will track air quality and facilitate city light system management.
Once the first smart city solutions appeared, people needed integrated smart IT platforms which could automate the management of the city systems. One of the first such solutions in the Polish market is the CityLab Project in Wrocław. Its aim is to create an intellectual base for testing smart systems operating in the public sphere. The major goal of this project will be to develop services to improve life quality of Wrocław dwellers with the support of smart city technology.
CityLab research teams will be focusing on key challenges which authorities of Wrocław are facing. Among other things, they will develop an air quality monitoring system interfaced with a mobile application, parking place management system or a network of light posts equipped with smart sensors.
There are more examples of smart city solutions in other European cities.
"In Prague we have nearly 100 intelligent systems that manage lighting, measure city pollution, traffic flow or data transfers to city inhabitants. Another example is Berlin, where we upgraded old lamps, saved 30 per cent of power in this way and became continuously in touch with Berliners by launching the city Wi-Fi network", Joanna Lewandowska, ICE-Gateway development partner, told the Newseria Innowacje news agency.
In a Slovakian project Galanta Smart City, ICE-Gateway prepared a network of 24 smart LED lamps, which may be controlled remotely via custom software. They also measure street traffic and automatically adjust lighting to the current needs of the dwellers. They also constitute a system for monitoring air quality and provide key data related to pollution, and integrated security cameras are used as the city's CCTV system.
"This is a unique, easily integrated infrastructure, which handles virtually all the elements of a true smart city system. This platform's genuine strengths include easy integration, possibility to add on other functionalities and solutions while the project is operating, scalability adjusted to the needs of every city, bigger or smaller. The platform encrypts the transferred data, which makes them very secure. Then, you may add other elements to the existing infrastructure or build it from scratch", the expert adds.
Another company that has also contributed to the development of the smart city concept is Qualcomm Technologies. The company is working on a platform for comprehensive support of smart cities. Qualcomm Smart Cities Accelerator Program will be a digital store for city officials to develop a structure of metropolitan IT systems. This will make it easier to integrate smart solutions from various manufacturers: cloud service provider, hardware manufacturers or developers creating control applications.
"The purpose of implementing easily integrated smart city systems is first of all to make life easier. An example here may be information on and management of city traffic, which may reduce traffic jams or affect city dwellers' choices on how to commute. Power saving resulting from smart light management. Implementing smart security solutions, i.e. city monitoring and communication with the local people. Obviously, air pollution measurement, too", lists Joanna Lewandowska.
According to Verified Market Research analysts, the global market of smart city solutions in 2018 totalled 554bn dollars. By 2026 it is expected to grow up to 1.93bn dollars, with an average annual growth of nearly 6.5 per cent.
Source: Newseria