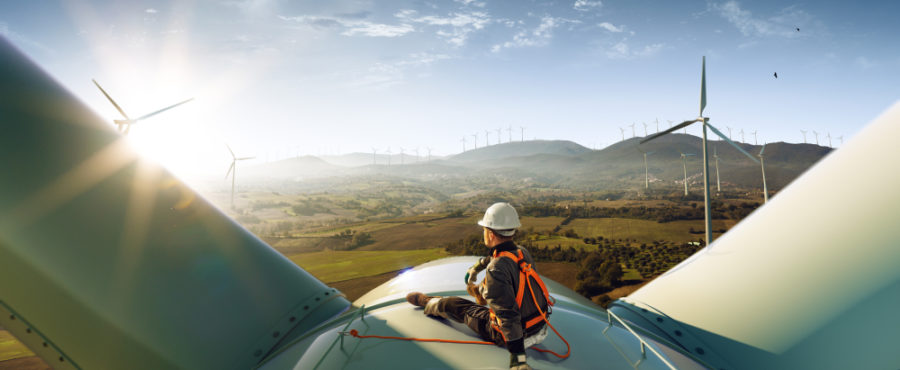 After past meagre years, some better times may come for Poland's RES market. Gothaer, a lead insurer of green energy in our country, for a few months now has seen wider interest in renewable energy among investors. Frozen wind farm investments are being reactivated and plans provide for new solar power plants.
Tough years, better prospects
Slightly more than 3 thousand systems with a total power of 8,593 MW is the picture of the Polish renewable energy sector at the end of 2018 – this conclusion may be drawn from data published by the Polish Energy Regulatory Office (URE).
"For the past years investors reluctantly looked at RES. Last year, RES power increase in Poland did not even reach 1 per cent", comments Tomasz Szejnoch, Gothaer's Property Insurance Office Director. "Looking at the spectacular progress of our western neighbours, who generated over 40 per cent of their electric power from renewable sources in 2018, we may see we have still a long way to go.
For over 7 years now Gothaer has been insuring green energy. It is Poland's first company to offer a specialised insurance program for wind farms and solar panel power stations. Despite last year's investment slowdown, for the past months the company has been reporting a clear, several per-cent increase in the number of enquiries about RES insurance policies.
Solar energy on the rise
Development is observed particularly in the solar energy sector. At present Gothaer insures hundreds of installations, both private and corporate, including one of the largest solar farms in Wielkopolska or Mazowsze regions. Analyses of the Institute for Renewable Energy (IEO) show that there are over 2,000 projects being carried out in Poland involving investments into green energy. The most of them are conducted in Wielkopolskie Voivodship (in the period of July – October 2018 130 new projects were initiated). Kujawsko-Pomorskie and Lubelskie Voivodship boast great potential in this respect (50 new projects in each). The lowest interest in photovoltaics is seen in Opolskie and Małopolskie voivodships. Development of this energy source is stimulated by financing, which is more and more easily available. Programs that offer support for solar energy investments include Prosument or Regional Operational Programs (RPO).
Gothaer's offer includes insurance for the renewable energy sources sector, designed both for corporate clients and consumers. Each individual who installs photovoltaic panels or solar thermal collectors on their property may acquire an insurance policy for their system. The policy protects against consequences of damages of the installations caused by acts of God (e.g. hailstorms, hurricanes, thunder strikes or vandalism), and also from theft or negative consequences of rescue actions. Insurance of a renewable energy installation may be purchased online.
Corporations investing in wind farms or solar energy may also use a wide range of insurance protection. Gothaer has an individual approach to each such policy as it customises the terms and conditions of the insurance. The only limit for wind turbines is the age limit of 18 years from the date of manufacture. A policy with specialised terms and conditions may cover devices of up to 10 years of age, while older ones – up to 18 years of age – may be covered by all-risk or named-perils insurance policies. There are 2 areas to choose from: protection of installations from material damage and insurance against loss of profit resulting from an outage caused by damaged equipment.
Source: Press release