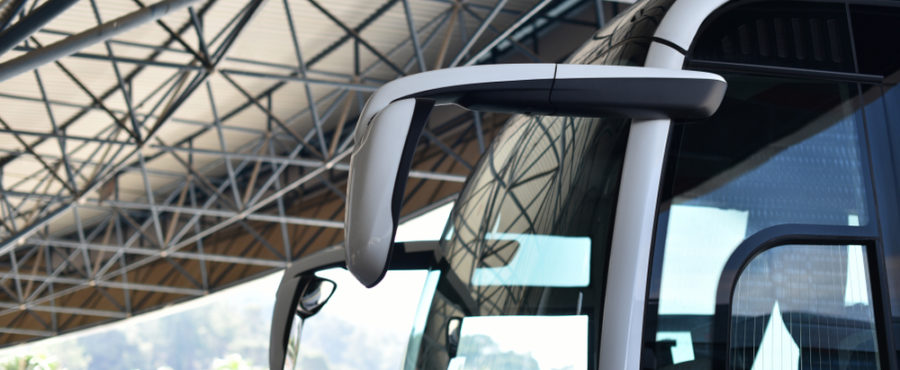 At all large airports hundreds of shuttle buses travel thousands of routes transporting passengers from and to hotels, parking lots or car rental companies. Traffic around the airport is heavy and the bigger the airport, the troubles caused by transportation are even graver. More and more airports are choosing to use zero-emission means of transport and purchase e-buses.
United States:
The Kansas City airport has been using this type of transport since 2017 and was the first airport to introduce fully electric shuttle buses servicing passengers.
The Indianapolis international airport uses six new electric shuttles manufactured by Complete Coach and is planning to make further purchases.
Still this year, the plan provides for nearly 20 Proterra electric buses to start operating at airports. Ten 40-feet shuttles, with 30 seats each, will start servicing passengers at the San Jose international airport (SJC); five will operate in Sacramento, four at the Raleigh-Durham airport. In Sacramento, the new vehicles will join the shuttle fleet running on compressed natural gas.
The San Francisco international airport announced in April it would purchase six new electric shuttle buses. One of the fastest developing US airports has ambitious plans to significantly limit its carbon emission. This would account for 50 per cent reduction of greenhouse gas emission compared to 1990's levels.
Other large American airports, but also some smaller, local ones, are announcing tenders or are already buying new passenger shuttle fleets.
A model airport management policy is the one in California, where in 2035 passengers using 13 largest airports in the state will be carried solely by zero-emission vehicles.
Europe
Europe's largest electric shuttle bus fleet operates on the Schiphol airport near Amsterdam, the Netherlands. It took up its leading position following its implementation of 100 electric shuttles. The fleet is growing and is to reach 258 vehicles in 2021.
Starting from 1 March passengers at the airport in Brussels have been able to use new electric shuttle buses which carry passengers between the check-in gate and the airplanes. With these new shuttles the Brussels airport achieved carbon neutrality in 2018. However, it continues to strive for reducing its environmental impact[1].
In Britain, Volvo Buses has been awarded a contract to deliver six fully electric shuttle buses to the airport in Birmingham. The buses are to start their service in November 2019. As 24/7 operations are the airport's requirement for the buses, Volvo 7900 will be charged using a pantograph system. Charging takes up to six minutes and ensures flexibility by allowing the vehicles to operate on a continuous basis. CEO of the Birmingham Airport, Nick Barton, pointed out that since 2012 the airport has decreased its CO2 emission per passenger by 20 per cent. "Launching of the six electric buses will further lower our CO2 per passenger figures, which is just fantastic," said Barton.[2]
Poland
3.5 thousand new buses powered by alternative fuels are to appear on the streets of Polish cities within the forthcoming ten years. Now there are nearly 200 electric buses operating in Poland. There are also about 350 CNG-powered buses and another 180 alternative fuel vehicles were contracted. This data comes from the "Alternative fuels in urban transportation" report presented at the Polish Congress of Alternative Fuels in Warsaw.
However, at the moment there is only one Polish airport which operates a zero-emission fleet. This May the Gdańsk Airport started to operate its first electric bus. On the airfield passengers are carried in a Solaris Urbino 12 electric. Considering the needs, this is a drop in the ocean. Especially as the passengers are carried not only on the airfield but also need to travel from the city centre to the airport.
Here is where RAFAKO proposal enters the game – the company's first e-bus utterly designed in Poland. The bus is equipped with an innovative quick charge LTO battery, which may be charged up to 90 per cent of its capacity in just 15 minutes. The vehicle is fitted for the disabled passengers, which certainly makes it an interesting proposal for operators of airports and may allow us to catch up with major airports in Western Europe and the whole world.
[1] https://aviationbenefits.org/newswire/2019/03/brussels-airport-introduces-electric-buses-to-serve-passengers/
[2] https://www.volvobuses.com/en-en/news/2019/mar/volvo-receives-order-for-six-electric-buses-to-birmingham-airport.html