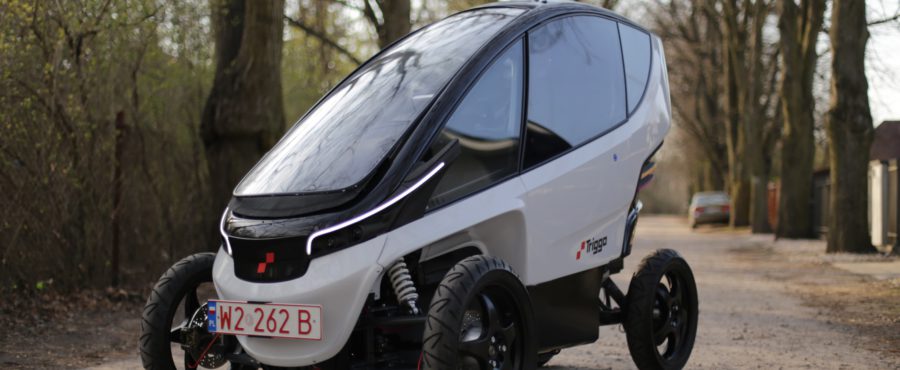 Triggo S.A., a Polish company working on an electric city vehicle, now protected by international patents, designed for car sharing and robo-taxi services, has just started street tests. The vehicle has been granted insurance and approved for use on public roads. Within the forthcoming months the company is to launch the first pilot fleet of 9 vehicles and in 2020 it is planning to start production of the first commercial series.
The tests on public roads have initiated the next stage of Triggo's development. The test drives became possible once the company obtained a special third-party insurance for the vehicle from the PZU insurance firm.
The first test results are promising. As assumed by construction engineers, the vehicle very well fits the city traffic environment. In particular, it drives well in traffic jams and in small parking areas. The key role here is played by a patent-protected variable-geometry suspension technology, which while preserving Triggo's modest dimensions, ensures the vehicle is stable at all speeds and provides for a secure interior protecting the driver and the passenger.
"The road tests started in Warsaw constitute an important step in Triggo's development path, which is a logical continuation of earlier tests conducted in a controlled environment. The results will provide important conclusions and feedback regarding the use of the vehicle in real-life conditions. Several months of tests will allow us to further enhance and develop the construction. We very much want the future users to have positive and unique impressions of driving our car. We are also working on the final approval for road use and are holding talks with industry partners on delivering the first commercial serial vehicles in 2020", says Rafał Budweil, President and Founder of Triggo S.A.
In addition to these projects, the company is conducting a patent procedure in India. Obtaining a patent protection in the world's second most populated market may expand Triggo S.A.'s area of exclusivity over territories with nearly 4 billion inhabitants. The company confirmed its plans to run a public offer on Warsaw Stock Exchange to finance the first commercial series of Triggo and initiate actions to launch serial production.
Expert analyses reveal that the market of electric cars and car sharing services are going to develop gradually and continuously. According to Deloitte, in two decades 50 per cent of purchased cars will be equipped with electric drives and the International Energy Agency anticipates that there will be 300 million such cars driving in the streets all over the world. Keralla Research anticipates that the number of car sharing users will reach 35 million in the next 10 years and the global fleet will consist of 400,000 vehicles. The growing popularity of vehicles powered by unconventional systems is the consequence of their low natural environment impact, technological and infrastructure development as well as public support.
"When looking at trends in the motor industry, both in Poland and in the international markets, we may see faster and faster changes of appreciating benefits and strengths of electric vehicles on one hand, and wider and wider popularization of shared means of transport on the other. Car sharing platforms are a good example here as they are developing strikingly fast both in Poland and in the world. However, we are deeply convinced that the genuine breakthrough is the robo-taxi service – a combination of renting a car via a smartphone app and automatic relocation of the vehicle. Triggo has been designed for such services and is already ready to turn autonomous," asserts Rafał Budweil.   
Robo-taxi services are representing good prospects as regards passenger transport. They allow combining a high gross nominal margin offered by car sharing systems with significant unit revenue (Uber, Bold, etc.). The key point is autonomous steering, which seriously increases each vehicle's average number of rides per day and at the same time, limits troublesome, manual human work. The market of robo-taxi services is expected to significantly grow globally once self-driving systems are approved for public road use and become popular. Triggo has a drive-by-wire steering system, which is a starting point for installing autonomous control systems. Polish legislation (Electromobility Act) already provides for the possibility of testing autonomous cars in road traffic, which represents a realistic opportunity to surpass international companies operating in this sector.
"At the moment over 160 entities in Europe alone are working on self-driving systems, among which we will be looking for a system for Triggo. Our vehicle is a perfect match for the robo-taxi market and the international patent protection poses unique opportunities of international commercialization. Another strength is the fact that our project is located in Poland, a European country, which remains very competitive in the areas of design and production", concludes Rafał Budweil.
Source – press release Triggo S.A.