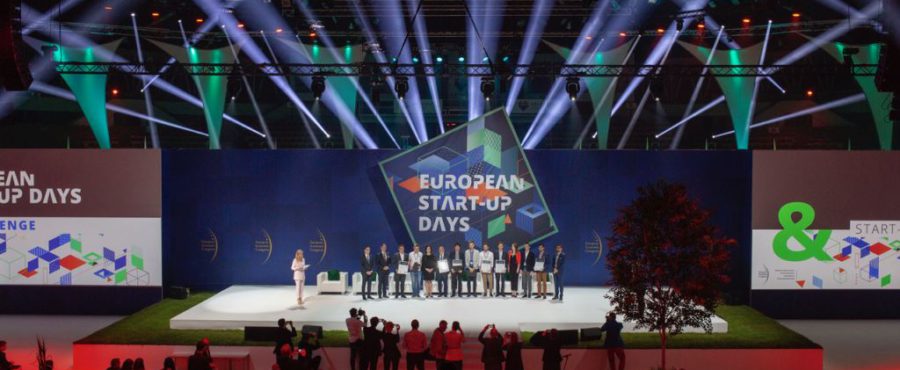 Katowice, 24 April 2019 – Concepts using AI, pioneer solutions, products, applications, installations, chatbots – they all will make up the hall of fame of 100 start-ups. On 14 and 15 May this year, along with the sessions and thematic debates at the European Start-up Days event, the Start-Up Challenge contest participants will be showing their presentations. The grand finale will introduce us to the laureates, 18 of whom will be presented on the venues of the Central Europe's biggest business event.
It is the fourth time the best start-up competition is held during the European Start-up Days and The European Economic Congress (EEC). This year's edition hosts a record number of nearly 300 start-ups from several continents. The finale of the Start-up Challenge, when the laureates will be introduced, will be held on 14 May at 8.00pm on the main stage of the Spodek Sports and Entertainment Arena in Katowice, Poland.
"The quality of applications filed in this year's edition of the Start-Up Challenge is very high and even more equal than in previous years. We are waiting for the finale – great emotions but also great opportunities", says Wojciech Kuśpik, host of the European Economic Congress and the European Start-up Days in Katowice, Poland, CEO of the PTWP Group. "We are offering young businesses an opportunity to present themselves to potential investors and to gain professional, organisational and financial support from world-class experts, as well as to use valuable mentoring and reach mass-media. The largest global corporations visiting the EEC will encounter new ideas that will form our Start-Up Hall of Fame in the Spodek Sports Arena", adds Kuśpik.
Among 100 start-ups which will present themselves at the Scale-up Alley European Start-up Days, there will be projects from Belarus, Germany, Poland (the highest number), Hungary, Britain, and the USA. They include business concepts such as software robots, chatbots including bots supporting people with impairments like addictions, drone solutions, augmented reality, machine learning, automatic data analytics tools, electric car charging infrastructure, medicine-related solutions, navigating app for blind and visually impaired people, smog-free air solutions, solar devices and many others.
Audiences gathered at the venues of the European Economic Congress in the International Congress Centre in Katowice and the participants of the European Start-Up Days in the Spodek Sports and Entertainment Arena will be introduced 18 selected start-ups. Here are a few of them:
Brandee
is planning to create and implement a commercial photovoltaic nanothread that may be woven into various textile materials. It will be used wherever access to electricity is limited. The nanothread may charge portable devices such as mobile phones, tablets or laptops. The technology may be used, for instance, in the manufacture of beach umbrellas, mountain tents and other textile products. The company is developing its innovation in cooperation with the Institute of Textile Technology in Łódź, Poland.
MakeGrowLab
is a creator of the concept of the SCOBY vertical farm – a rapidly renewable and fully biodegradable material that may be used, for example, in the production of single use packaging instead of plastic, textiles or interior design products. SCOBY may be grown on waste locally, in a room with no sunlight, which makes it unique among rapidly renewable materials. MakeGrowLab also offers support in implementing circular economy in companies.
Optimo Light
is an autonomous, smart light fixture which remotely measures lux units. Thanks to automatic regulation of light intensity, the device compensates for outdoor sunlight, ensuring standard-compliant light level in the workplace, eliminating unnecessary light. The light fixture takes into account the presence of users in the room and provides data which it collects, such as: human presence, power of the lamp, the lux units measured in the workplace. It graphically presents trends in real-time and historically.
Syntoil
offers an installation that processes used tyres (in the form of rubber pellets) and converts them into industrial products using a continuous pyrolysis process. More than a billion tyres are used up each year all over the world. A vast portion of them is burnt, for instance, in cement plants to generate power. However, tyres may be processed within a circular economy and the raw materials may be returned to the rubber production process. Syntoil has built an industrial prototype processing 200 kg of rubber pellets an hour. The company is now carrying out an investment process to build the target version of an installation capable of processing 800 kg of pellets an hour and to develop its entire business.
The Start-up Challenge is intended for start-ups which have been operating in the market for no longer than five years and have developed an innovative product, technology, business model or optimised existing process in one of three categories: new industry (Industry 4.0, robotics, automation, production systems, new materials, space industry), environment (environment protection: climate technologies, ecological farming, smart energy, use of raw materials, waste processing), tradition & modernity (traditional industry, power, telecommunication, transport, construction), health & biotechnology (medicine, health, medical technologies, pharmacy, biotechnology), business processes (management, analytics, ICT, cybersecurity, logistics, HR), client & lifestyle (trade, customer experience, e-commerce, fintech, edutech, gaming, sport, leisure industry).
You may read more about 100 finalists of the competition on the website of the European Start-up Days.
The European Start-up Days to be held on 14 and 15 May 2017 in Katowice, Poland, is an event connecting start-ups, corporations and business support organisations. The purpose of the event is to integrate the world of young entrepreneurs with experts, CEOs of large corporations, investors and successful business people, who will visit the European Economic Congress in Katowice.
Visit Start-up Days